If you are an allergy parent and are linked to groups on Facebook, Twitter or Pinterest, you have probably seen this image a dozen or so times, it's so true!
We first found out our daughter was allergic to milk when she was 5 months old, that was a nice clear IgE allergic reaction, confirmed by blood tests.  After switching to soya milk for me and Nutramigen for her (and continuing to mostly breastfeed) her eczema cleared up a great deal, but was still not what I considered 'normal', so I cut out egg after my own food diary notes and then her eczema disappeared, all by the age of about 9 months.
We thought that might be it for her, but she continued every now and then to have very severe diarrhoea and our final round of food diaries and label interrogation when she was about 3 proved that she was intolerant to pineapple.
Aside from pollen and environmental allergies I think we have her food allergies completely sussed.
Now with me,  a grown woman, it's a different story…
I am not allergic to any foods, I don't tolerate a lot of coffee and that's about it.  I have very mild eczema which occurs when I am sick, but I am clearly allergic to certain ingredients in beauty products and cosmetics.
When I was about 8 I tried some of my Nan's "Charlie" perfume on my arm and the whole arm went red like a chemical burn.  We didn't even know about antihistamines then, so my mother washed my arm and after a day or so it calmed.
I have incidents like this a couple of times every year, I don't wear a lot of make-up, but I do like smellies, Lush is a particular favourite of mine (and you can search ingredients on their website) and I ask for things every year for my birthday, I am usually allergic to at least 1 of my Christmas smelly gifts.  Usually I just chuck or re-gift the offending item to my more tolerant friends (we all play swapsies at Christmas, I have a friend allergic to certain vegetable extracts, one flower extracts and the other fruit extracts – we are a fun bunch).
My New Years Resolution last year was to keep or photograph the ingredients and try and pin down what it is that I am actually reacting to.  Last year I was only allergic to Body Shop Aloe Face Wash, which felt like my face was on fire (have I learnt to patch test with new products – no, I am an idiot) and I had nothing to compare it to.
This weekend I was shopping with my friend (the one allergic to cucumber), looking for an eye cream without it (very difficult) and also buying a cream for our other friend who is allergic to fruit extracts.  This was already a fun shopping trip! We were in Boots and I tried the Protect and Perfect Serum all over my face and after 2 minutes my face raised and went bright red.  I have used No7 a lot over the years and have never reacted to it before.  One look at the ingredients list though, wow, that is a lot of stuff to look into.
Boots Protect and Perfect Serum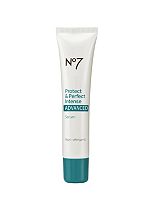 Cyclopentasiloxane, Water, Butylene Glycol, Dimethicone Crosspolymer, Cyclohexasiloxane, Glycerin, Dimethicone Copolyol, Sodium Ascorbyl Phosphate, Polysorbate 20, Magnesium Sulfate, Phenoxyethanol, Sodium PCA, Retinyl Palmitate, Methylparaben, Propylene Glycol, Lupinus Albus Seed Extract, Carbomer, Butylparaben, Ethylparaben, Tetrasodium EDTA, Propylparaben, Isobutylparaben, Panax Ginseng Root Extract, Morus Alba Leaf Extract, Tocopherol, Palmitoyl Oligopeptide, Sodium Hydroxide, Palmitoyl Tetrapepetide-3
For comparison I finally kept something else I was allergic to and I can start my investigation.
Body Shop Aloe Gentle Facial Wash
Aqua/Water, Pentylene Glycol (Solvent), Sodium Cocoamphoacetate (Surfactant), Sorbitol (Humectant), Glycerin (Humectant), Butylene Glycol (Humectant), Citric Acid (pH Adjuster), Sodium Chloride (Viscosity Modifier), Sodium Laureth Sulfate, Disodium Cocoyl Glutamate, Polyglyceryl-2 Caprate (Skin-Conditioning Agent), Polysorbate 20, Coco-Glucoside, Levulinic Acid, Sodium Hydroxide (pH Adjuster), p-Anisic Acid (pH Modifier), Sodium Cocoyl Glutamate, Aloe Barbadensis Leaf Juice (Skin Conditioning Agent).
Our Suspect List
From the two ingredients list there are only a few things in common.
Sodium Cocoamphoacetate – Sodium cocoamphoacetate is an organic compound derived from coconut oil.
Glycerin – Glycerine occurs widely in nature, and was traditionally obtained from animal fat or tallow as a by-product of soap making.
Polysorbate 20 – Polysorbate 20 is a surfactant whose stability and relative non-toxicity allows it to be used as a detergent and emulsifier in a number of domestic, scientific, and pharmacological applications
Sodium Hydroxide – Sodium hydroxide (NaOH) is a white, crystalline substance, which is soluble in water used extensively in soap, paper and fabric production.
I have to say that these ingredients are common in other products I use with no problem, so the only thing I can think of is that there are two different ingredients in each product to which I am allergic.
Plant Extracts
These products both contain one or more plant extracts (highlighted in blue on the ingredients lists), my allergy friends and I usually find these to be prime suspects.
Aloe Barbadensis Leaf Juice – Aloe vera is from the lily family
Lupinus Albus Seed Extract – Legume
Panax Ginseng Root Extract – herb, ginseng family
and Morus Alba Leaf Extract – white mulberry, chinese plant infamous for fast pollen release
I can't pin down any of these as suspects and can rule out aloe as I have used the strong aloe gels for sunburn with no problems.
So I am back to the beginning with my allergy investigation, does anyone have any insights or name a few ingredients that they have issues with?